---
Irish Rambling House at Siamas Tíre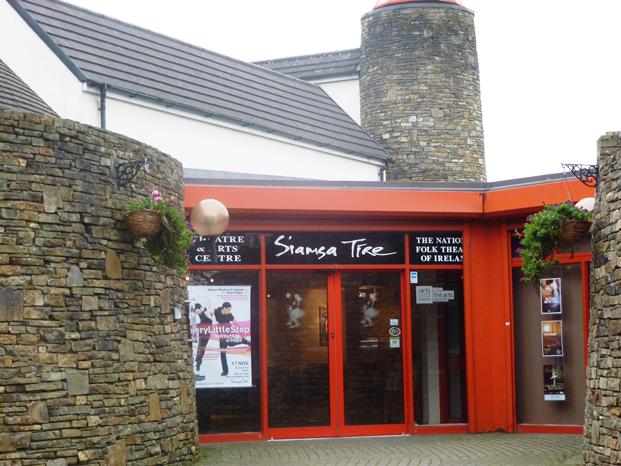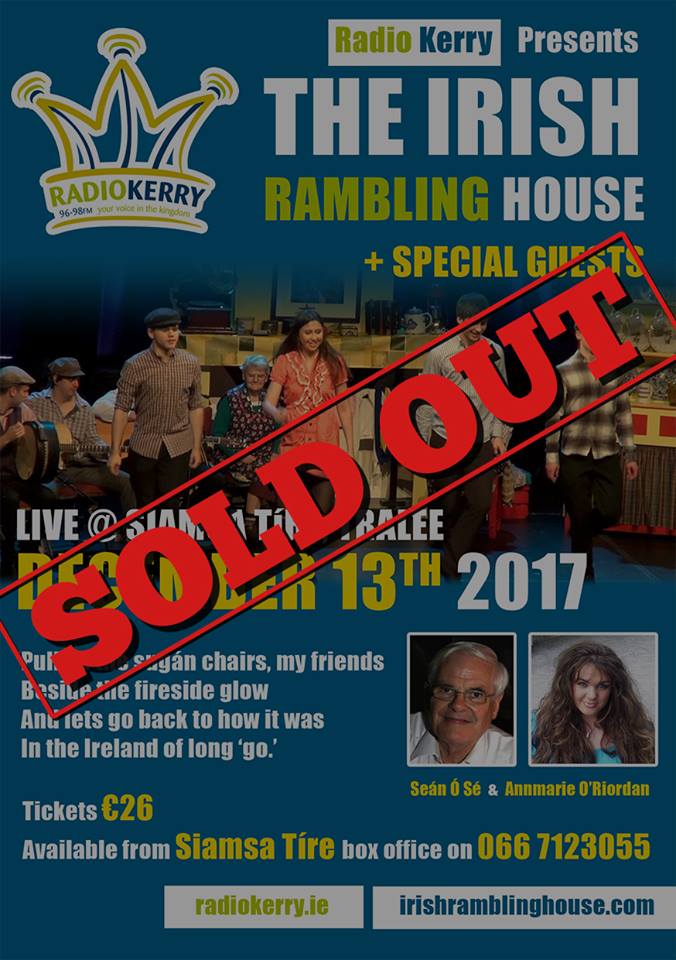 Great Irish Rambling House Show at Siamsa Tire last night. Twenty mighty entertainers and two great guests (Sean O'Sé and Annmarie O'Riordan). Packed venue and a great atmosphere. Thanks to the lovely staff at the venue and to Radio Kerry for asking us to put on the Show. The following were those on stage and where would you get a nicer and more talented group of people?....

Singers
Doris Shire The Mungret Nightengale Pat McCarthy Duagh and Dublin Young Bob Casey Clare

Storytellers
Peter Casey Co Clare Chrissie Roche Castlemahon Paddy Commane Co. Clare Noel Joyce Tipperary

Musicians
Stephen O'Leary Kilcummin Accordion Sean Kelleher Fossa Banjo and Guitar Padraig Enright Flute player Lixnaw
Sarah O'Keeffe Brosna Concertina and dance Maurice O'Keeffe Brosna Fiddle and Dance
Pat Curtin Shannagolden Mouth organ Joe Creedon Co Cork Mouth Organ and singer

Dancers
Triona Ni Shúilleabháin Ballyferritor Dancer Michael O'Sullivan Dance Caoimhe Lyons Lyreacrompane Sean Nos Dancer
Margaret Madigan Co Limerick Two hand Dances Darragh O'Donnell Co Limerick Bodhran and Dancer

Bean a Ti Angelina O'Donnell Bean a Ti Co Limerick

Rambled in - Annmarie O'Riordan and Sean O'Se.

Sound – Billy Donegan

Managed and produced by Kay O'Leary and Joe Harrington Lyreacrompane
---
2017 Irish Rambling House Tour
Our sincere thanks to all who helped make our 2017 visit to entertain the exiles such a success. It was great to meet up again with old friends, especially in Cheetham Hill, Manchester where we hadn't been for a decade. Our entertainers were mighty in what was an all new show. Their ages ranged from 11 to 80. This was our 19th trip and we look forward to meeting up with you all again for our 20th next year.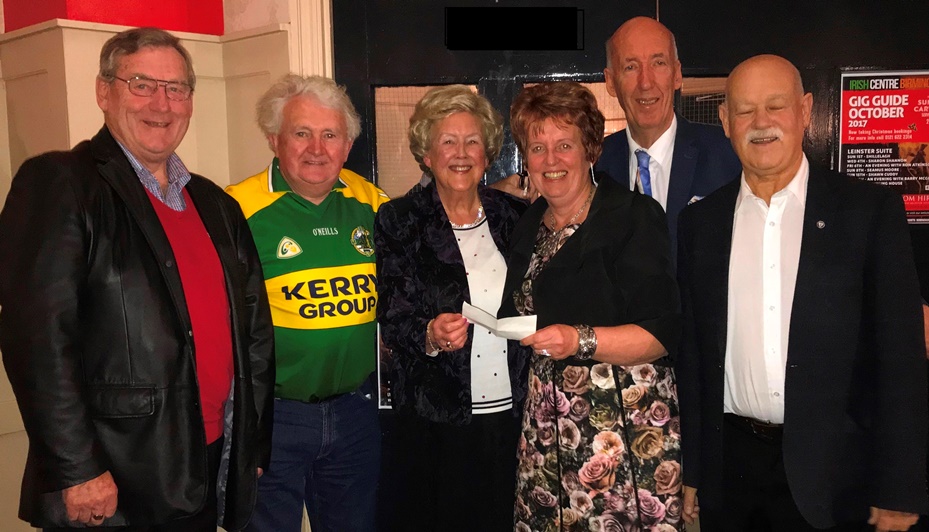 What a lovely surprise we got when we arrived in the Birmingham Irish Centre. We were approached by members of the 32 County Association which had just decided to wind up the group and who had decided to present us with a cheque for £300 - the funds remaining in their bank account. Maurice Long hopped on stage to present the cheque to Kay O'Leary, Manager of the Irish Rambling House show. This was a fantastic gesture from one non-profit community group to another non-profit group. We also take it as an appreciation of the work we do to bring our particular show to the heart of the Irish communities up and down England.
In the photo above are Eddie Falahee, Maurice Long, Peggy Falahee, Kay O'Leary, Joe Harrington and Jim Tomlinson. 32 County Association members missing from the photo are Paula Turner, Michael Tomlinson and Willie Finnegan.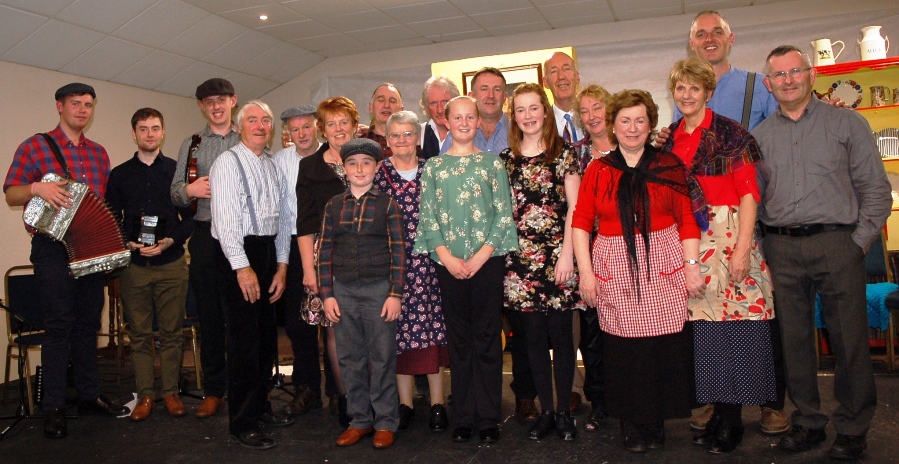 The gang's all here. The Irish Rambling House Group 2017 (Vince Shuel Irish World)

---
Photos from the 2017 trip
Taking in Manchester, Birmingham, Harrow and Luton
(Our thanks to Vince Shuel, Irish World, for some of the following photos)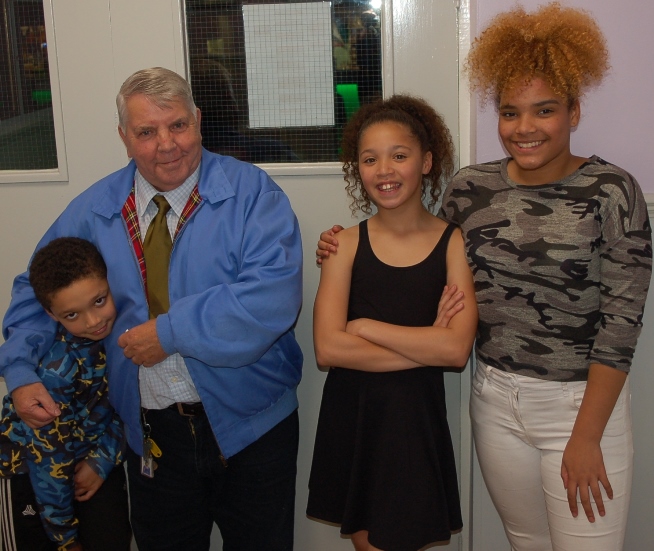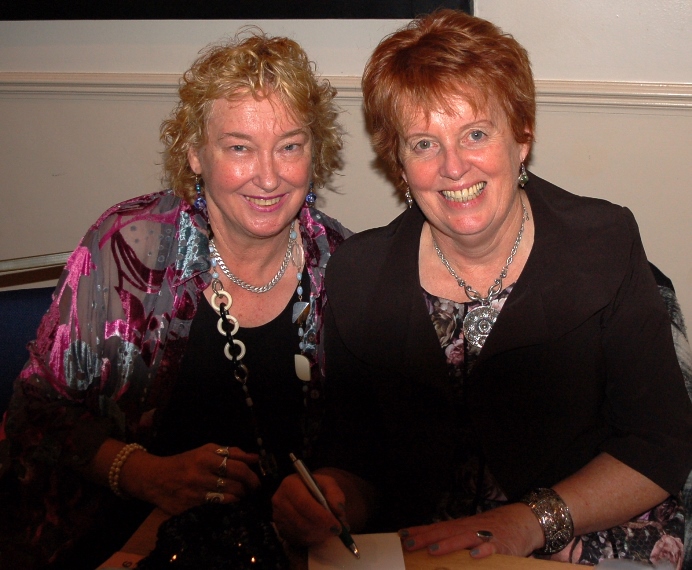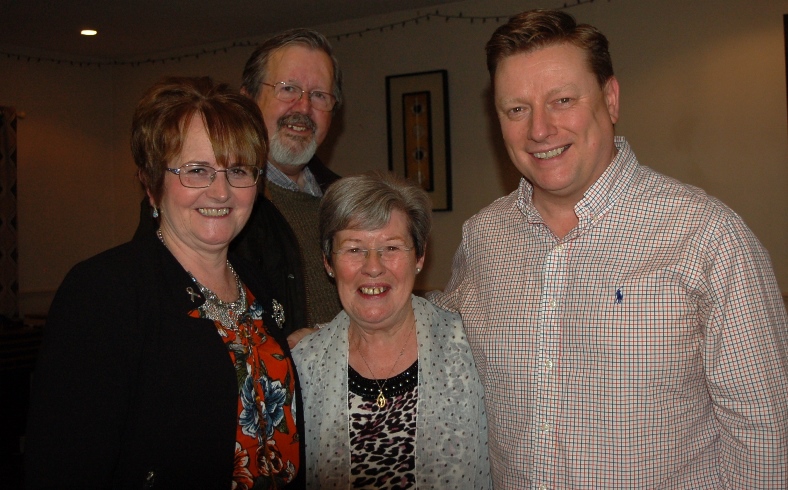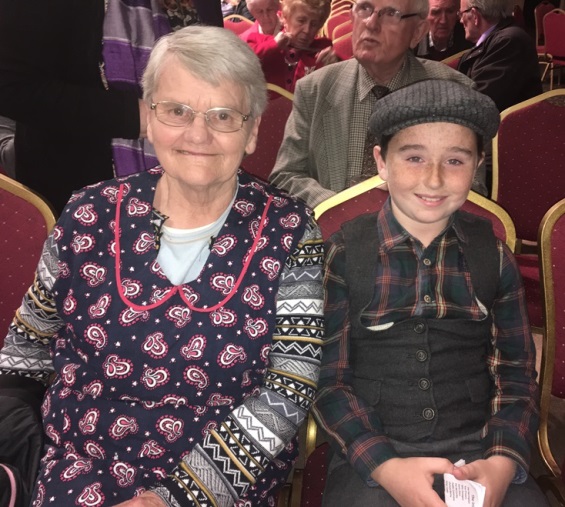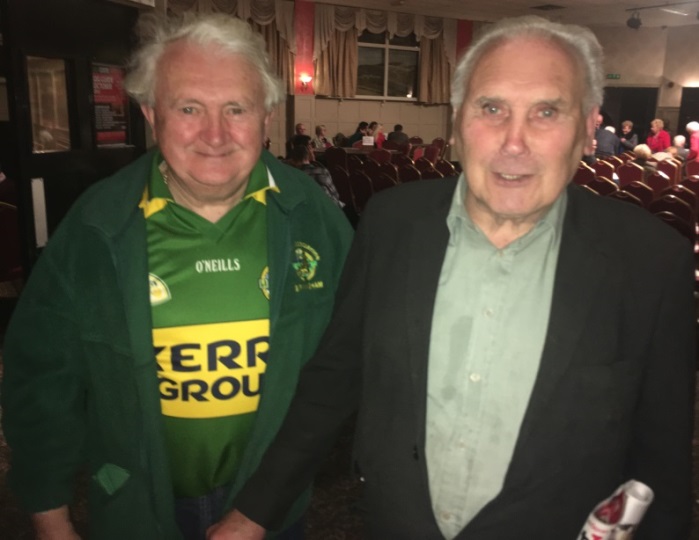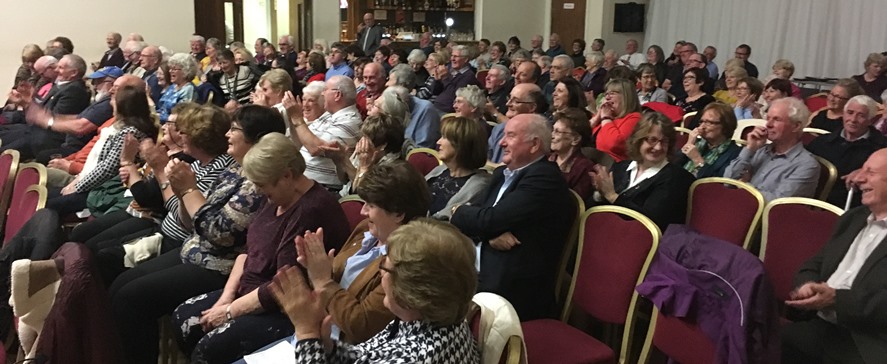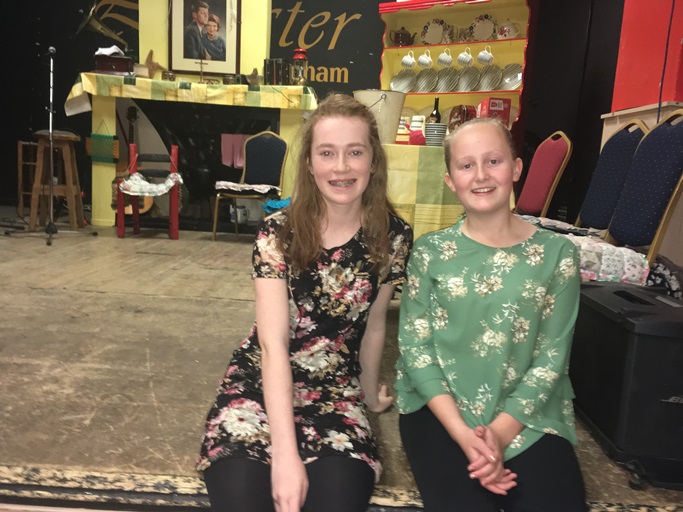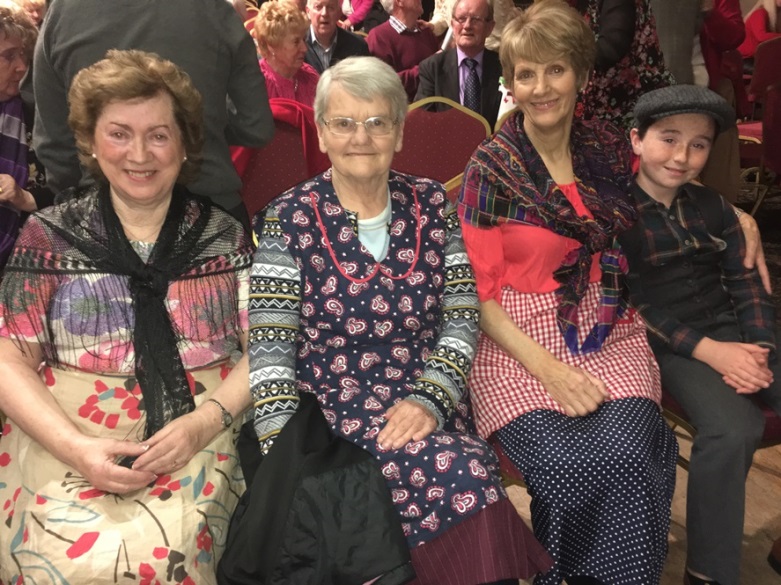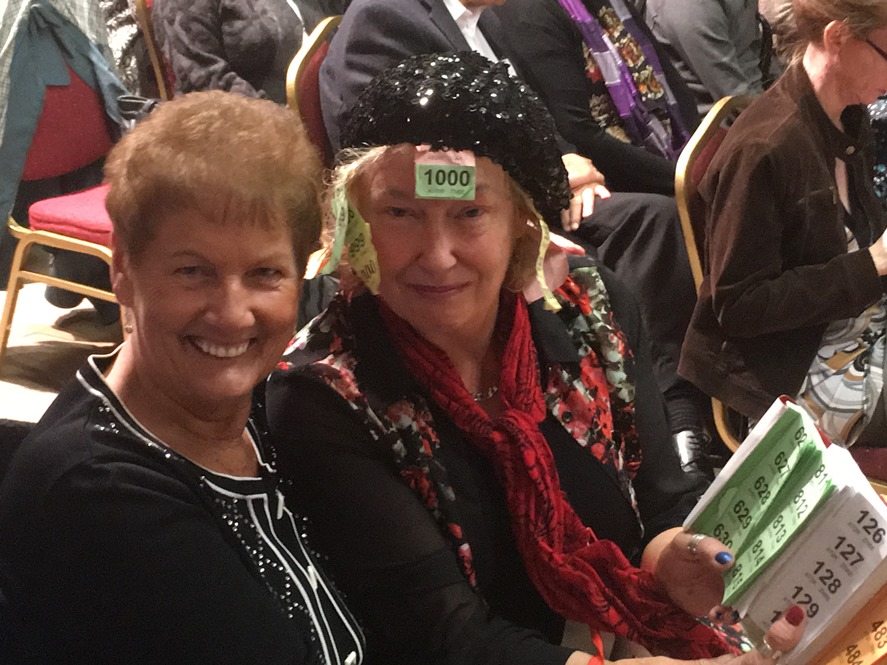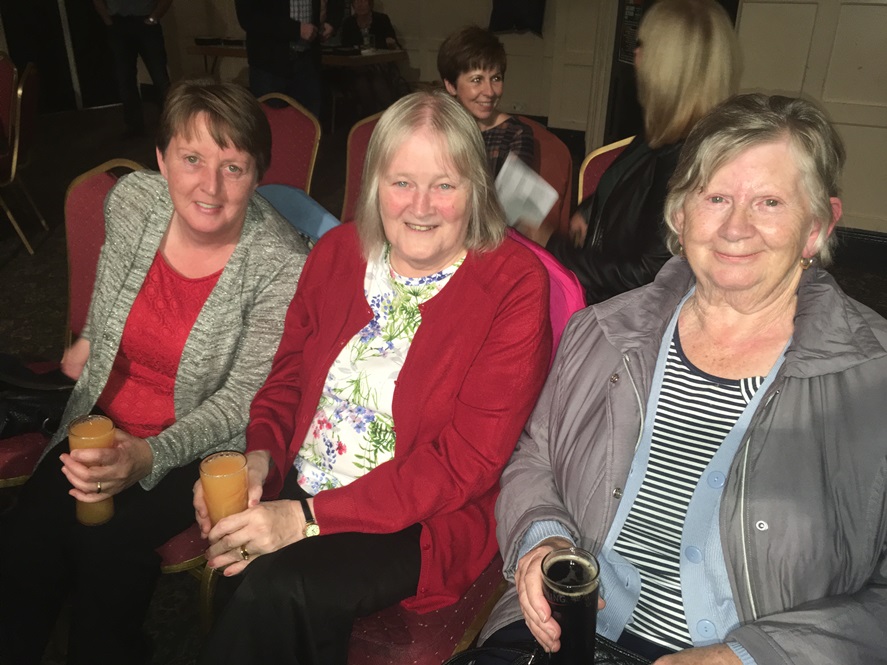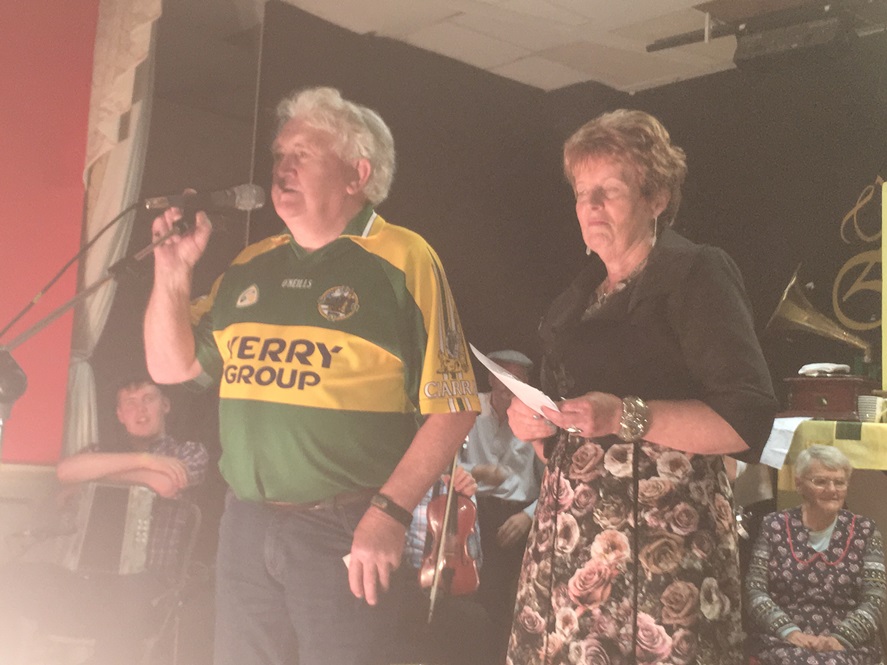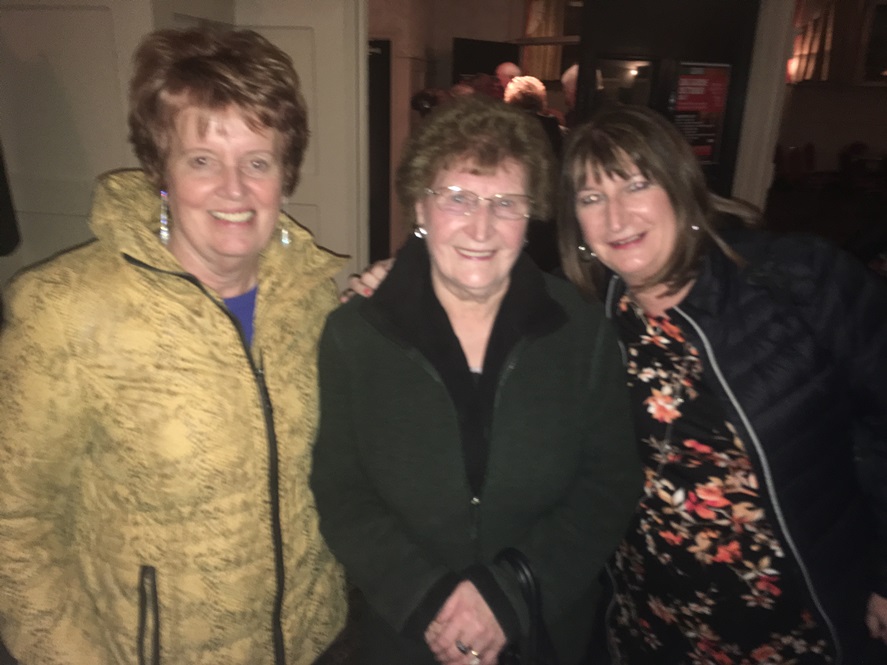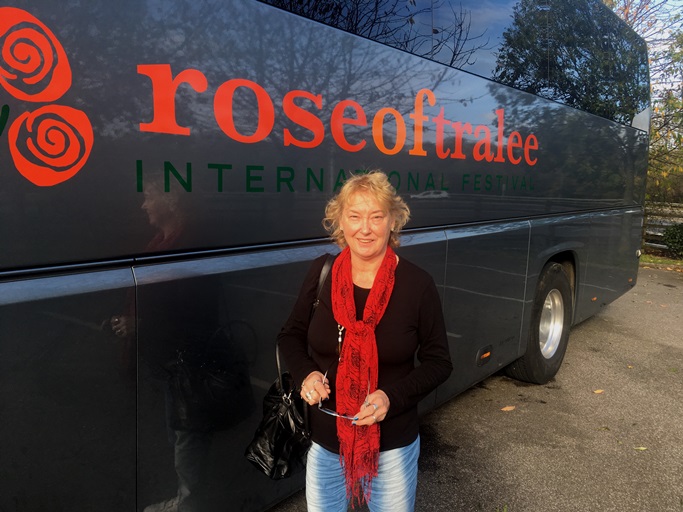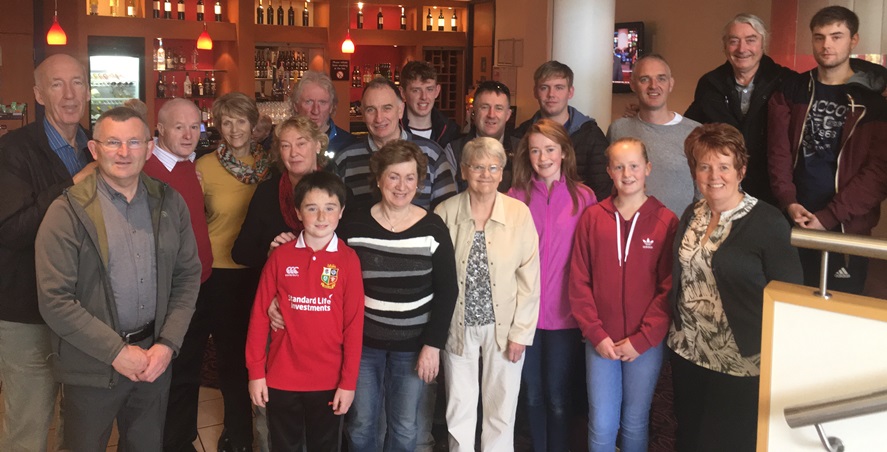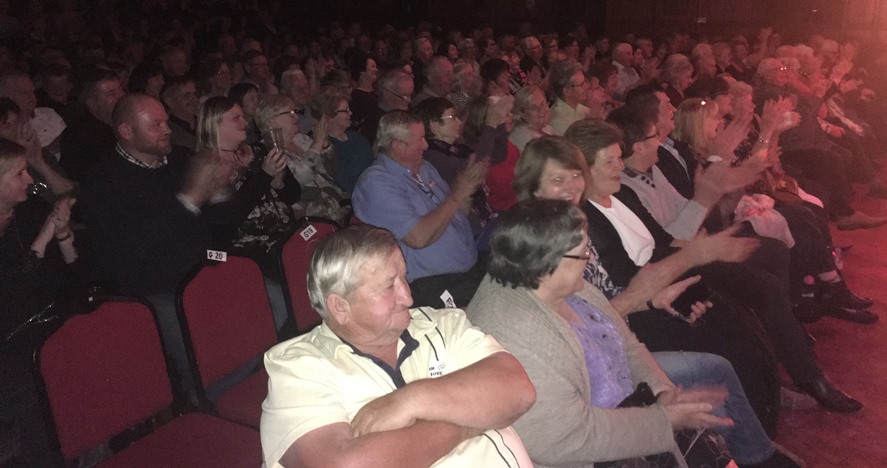 Great crowds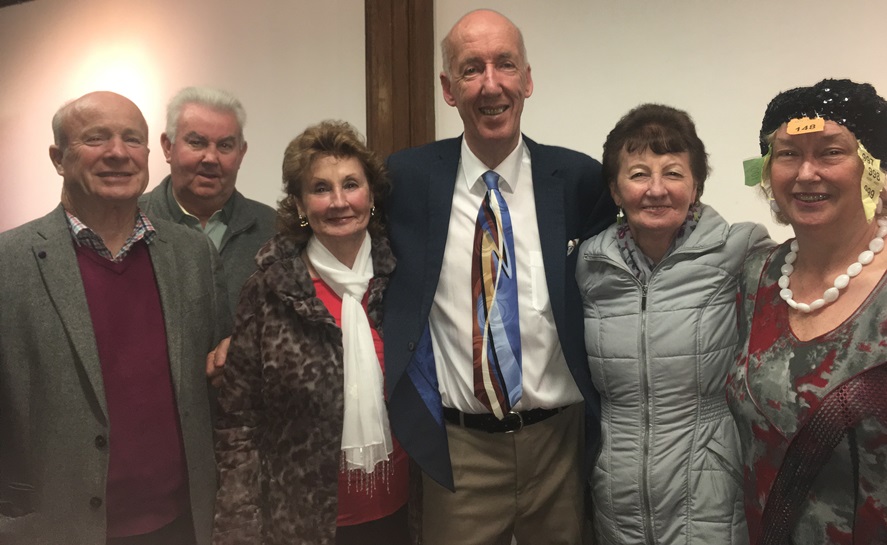 Meeting the cousins
---
Get Well Danny Tim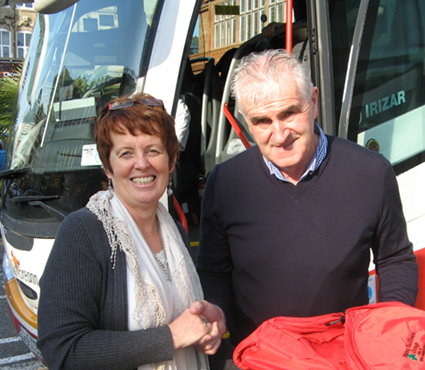 Best wishes for a quick recovery to Danny 'Tim' O'Sullivan, a true friend and supporter of the Irish Rambling House Show. A former Dublin and London Kerry Person of the Year, Danny is respected at home and among the exiles in England for his support for worthy causes and for all things Irish. All at the Irish Rambling House are thinking of you, Sheila and your family.
---
2016 Irish Rambling House Tour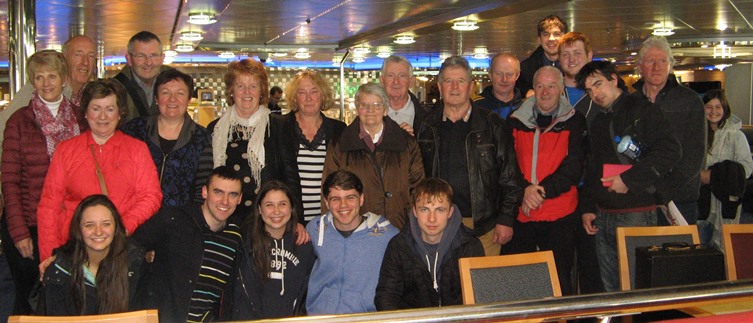 On the Ferry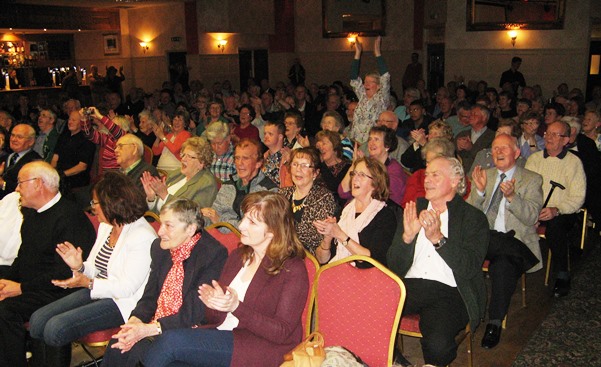 Part of the full house at the Birmingham Irish Centre
---
Irish Rambling House 2015 Tour Photos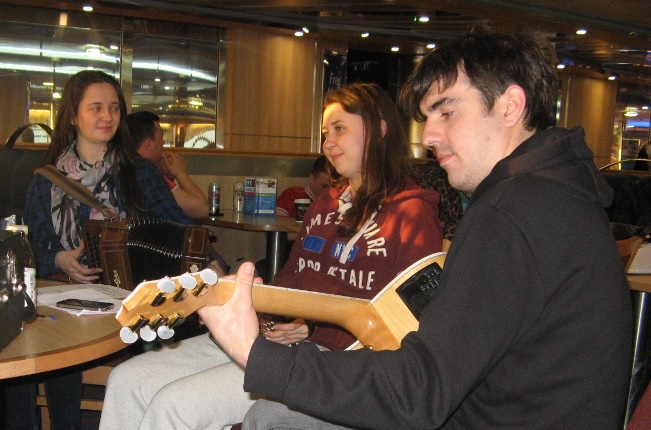 Rehearsals on the ferry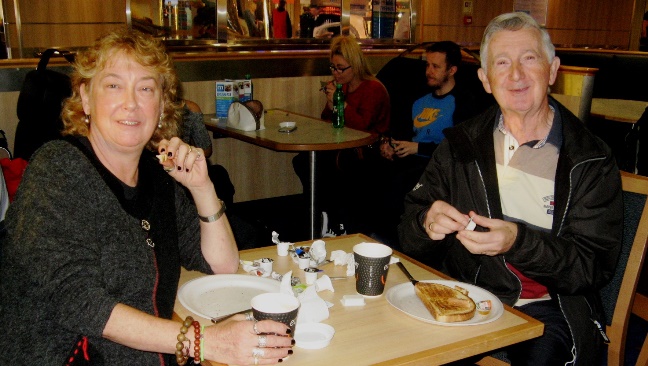 Helen and Mike having breakfast on the ferry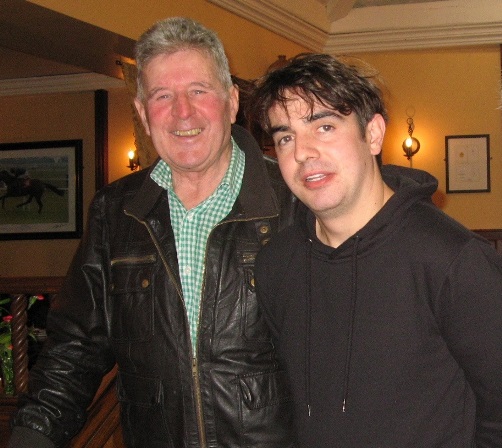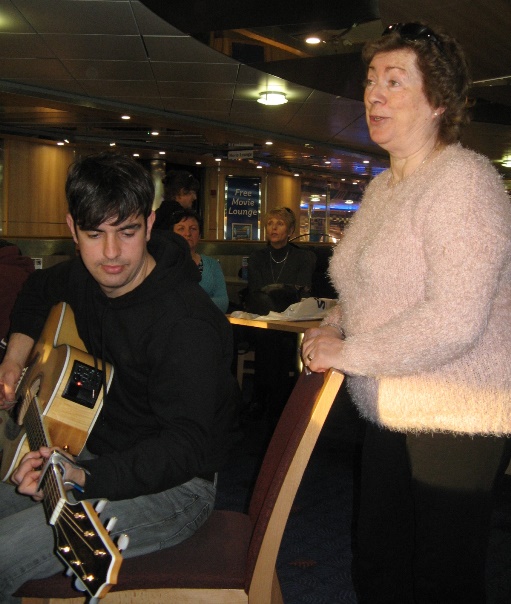 More rehearsals on the ferry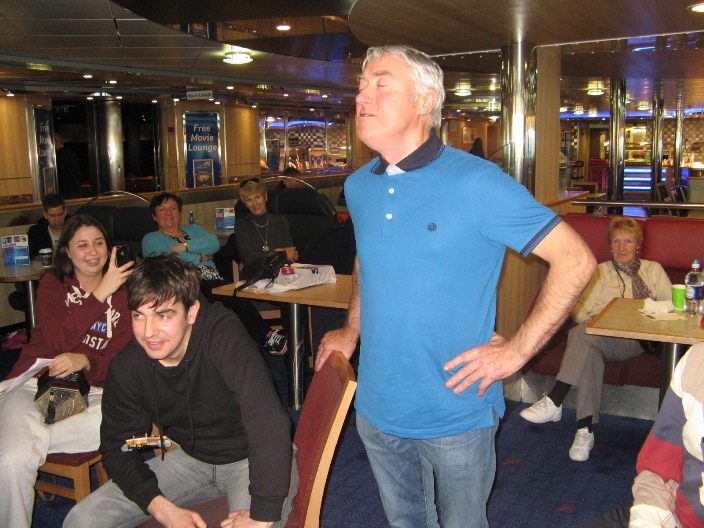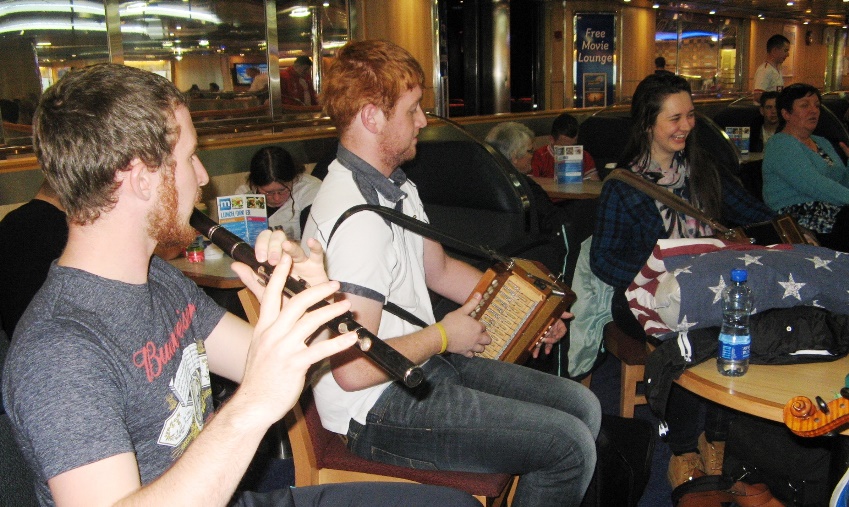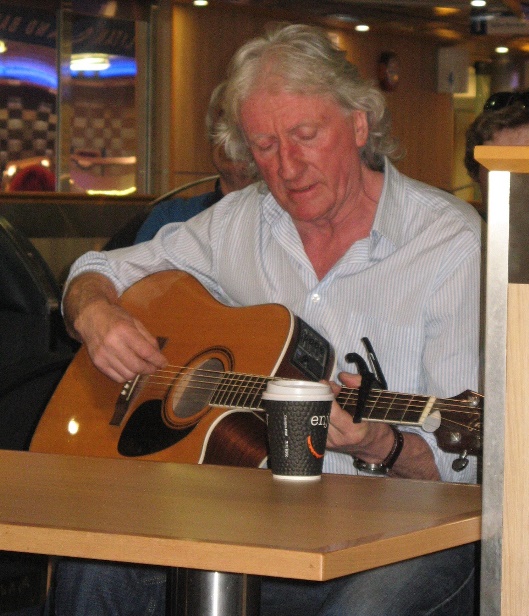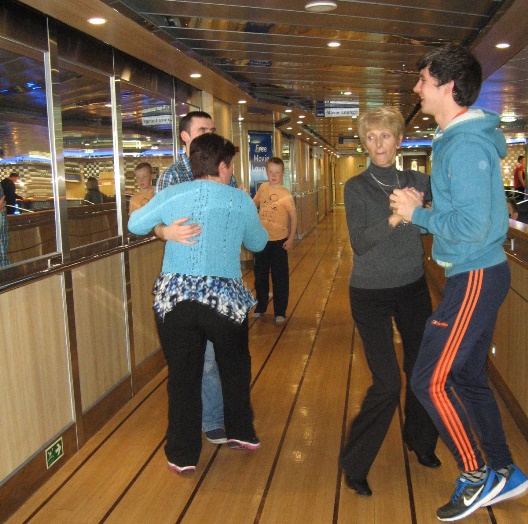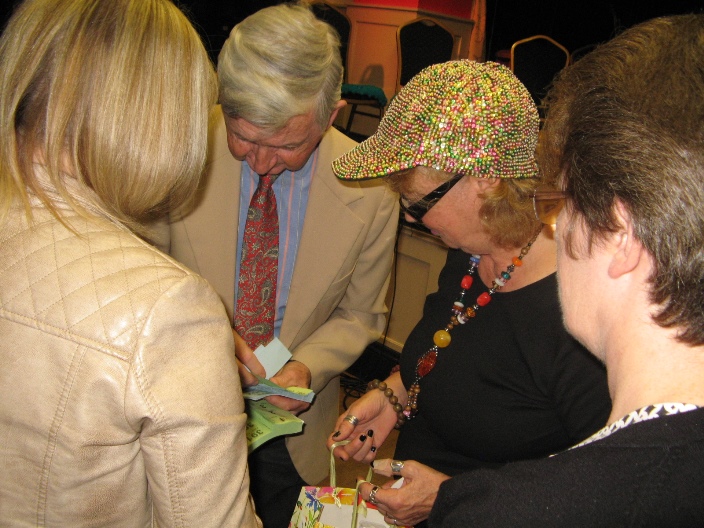 Mike Mangan and Helen Schisas on raffle duty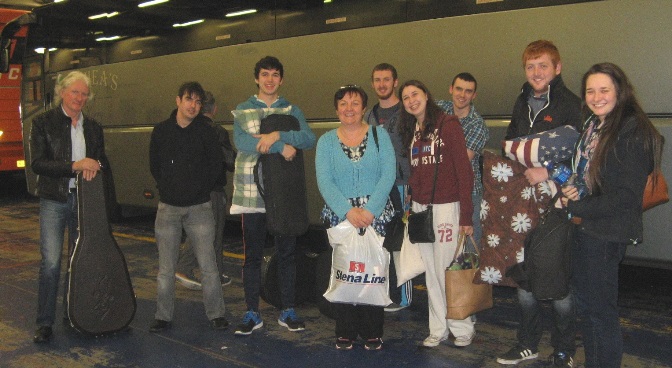 Ready for a nap on the coach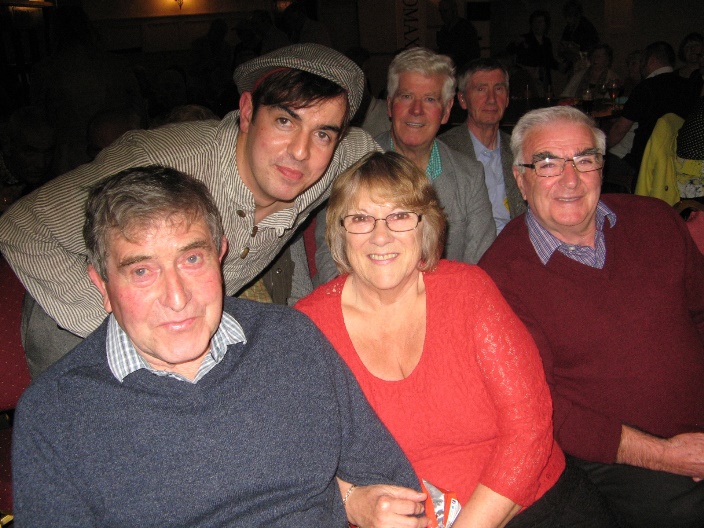 Tom McGinty meets up with some cousins from Mayo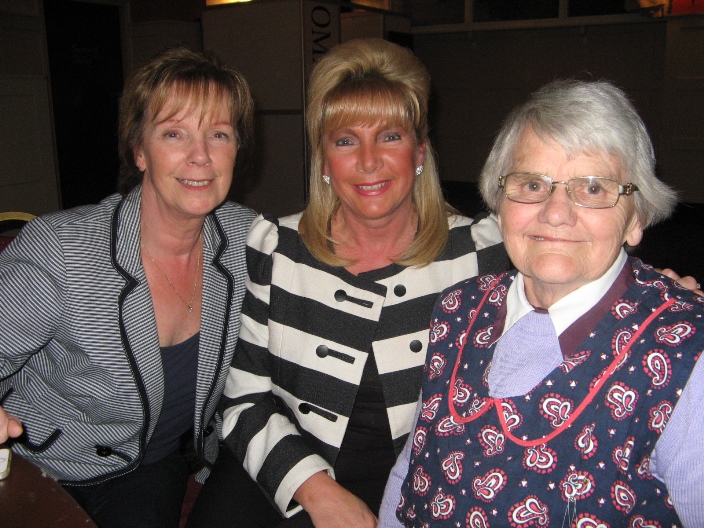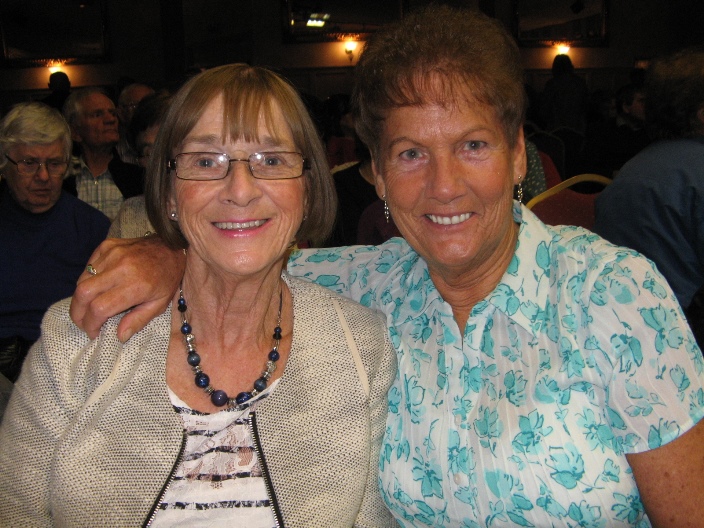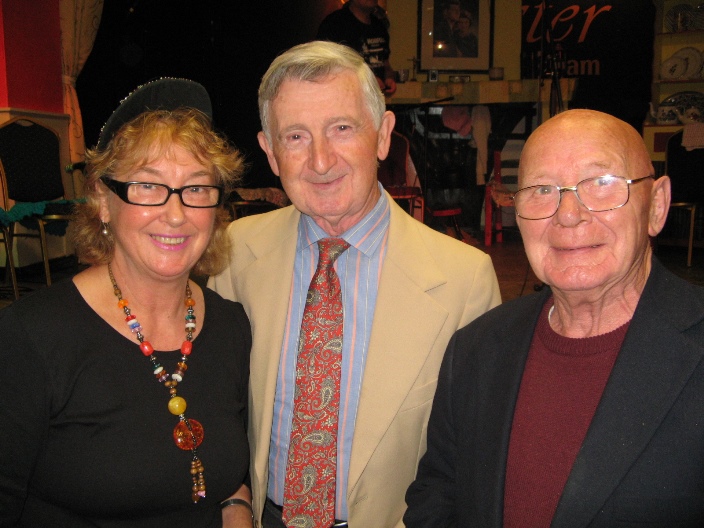 Helen, Mike and Liam Óg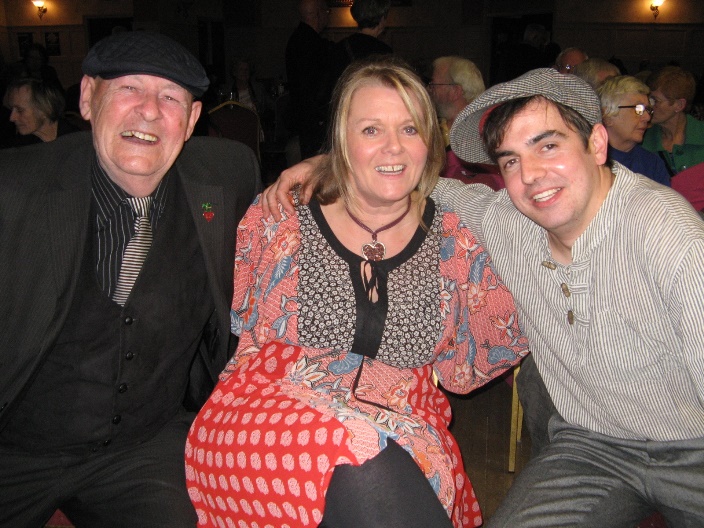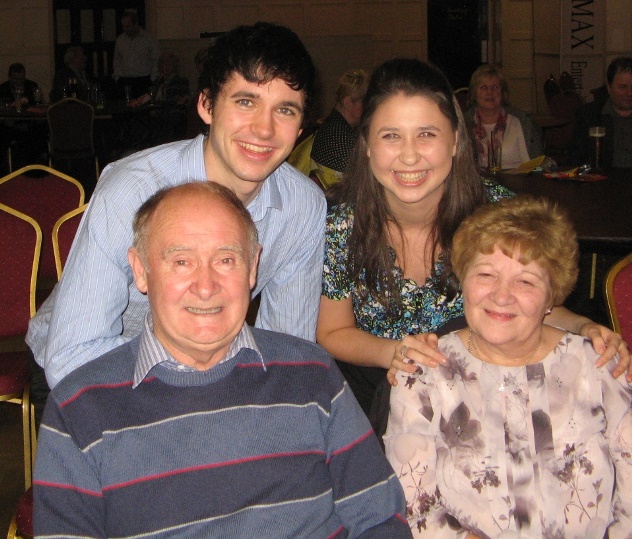 Maurice and Sarah meet up with their Granduncle and Grandaunt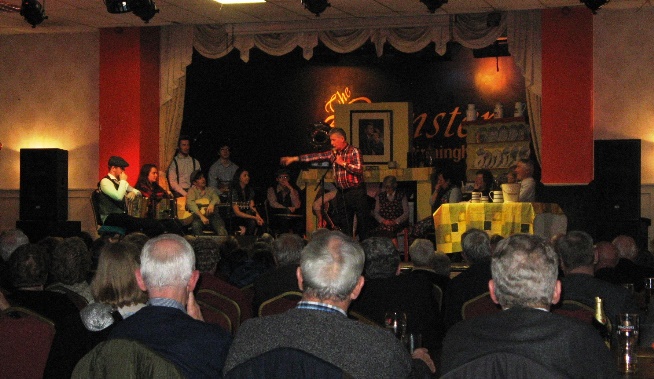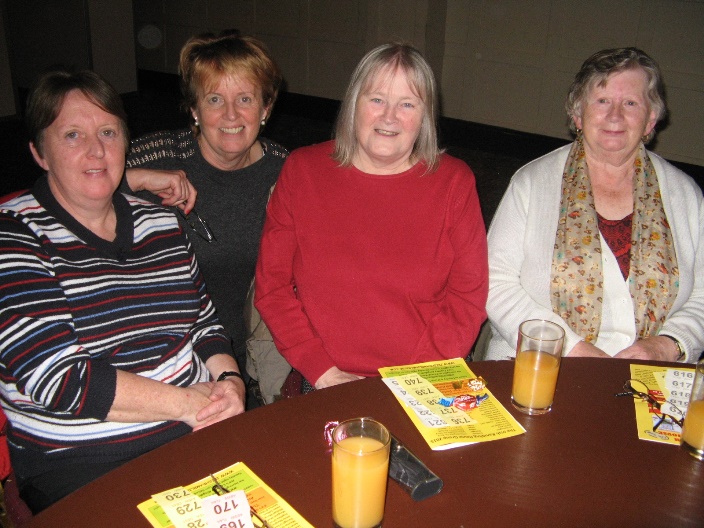 Mary O'Sullivan Enright, Lyre and B'ham, and friends chatting with Kay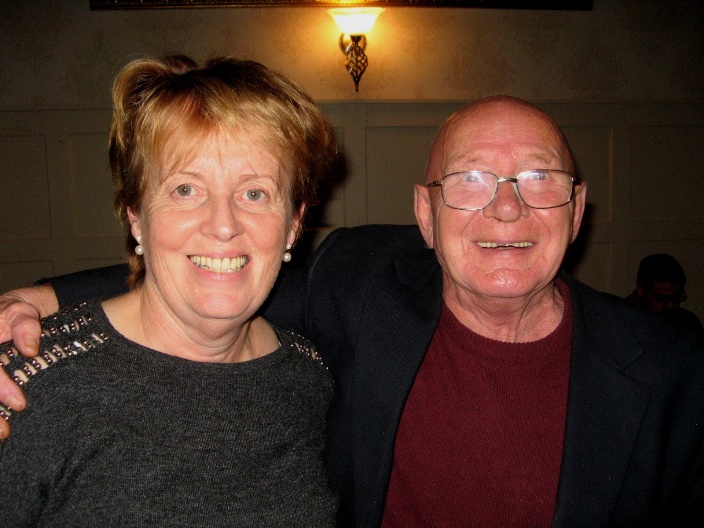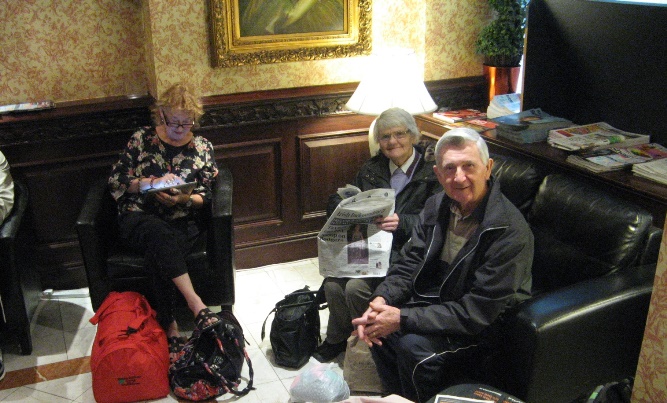 Kay with Liam Óg Waiting in the lobby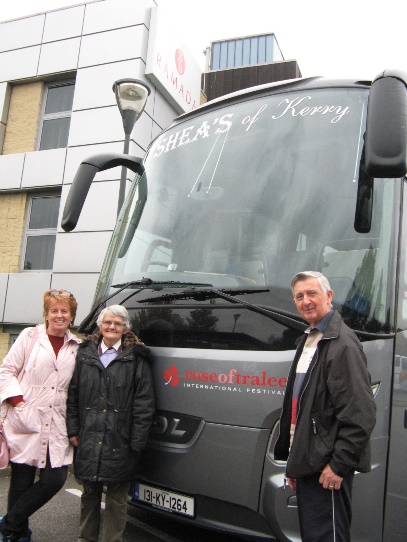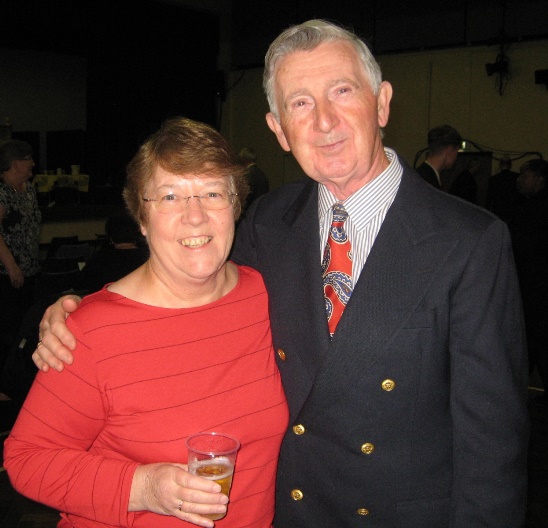 Mike with some Roses!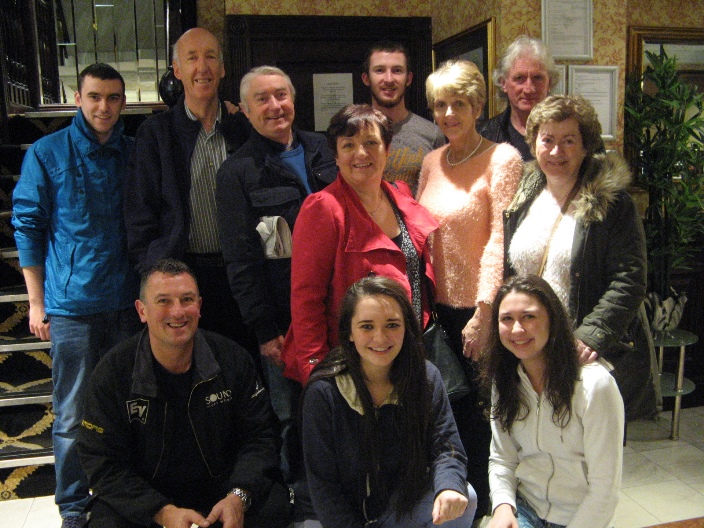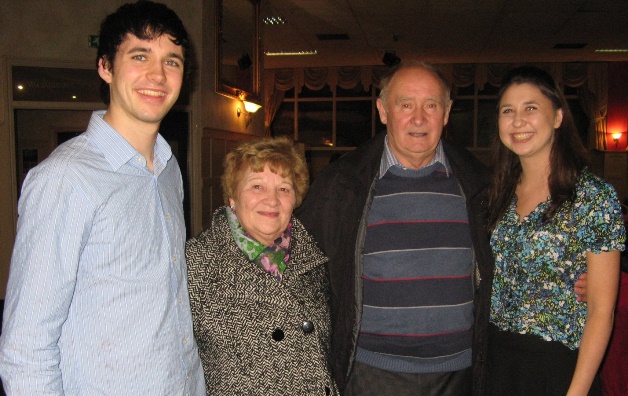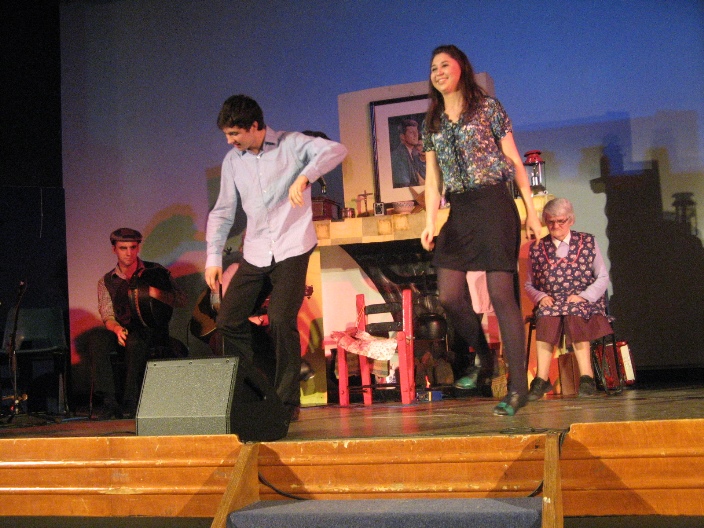 Maurice and Sarah O'Keeffe to the fore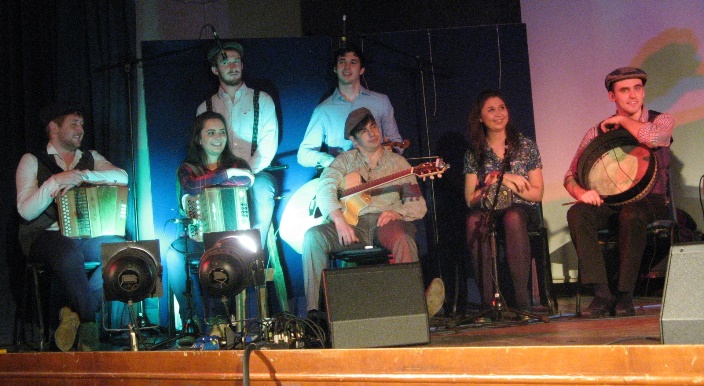 Kevin O'Neill, Jenny Murphy, Seamus Harnett, Maurice O'Keeffe,
Tom McGinty, Sarah O'Keeffe and Darragh O'Donnell.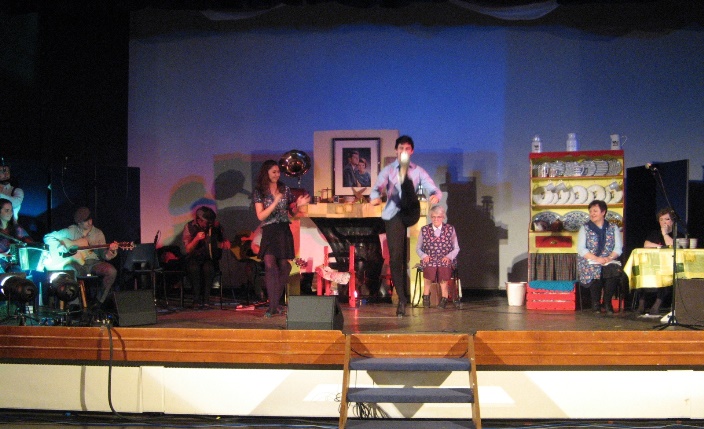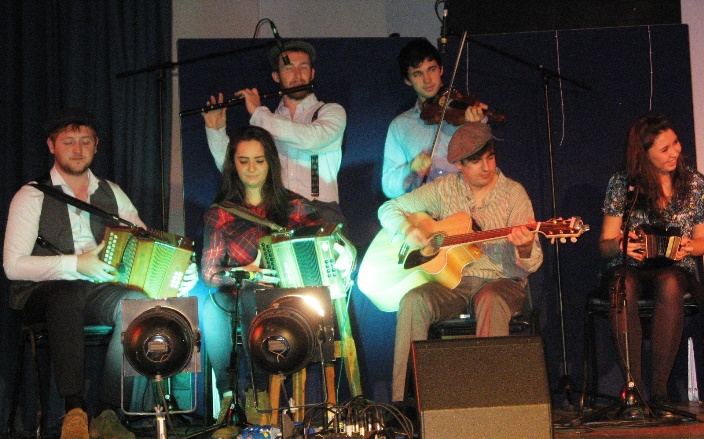 The best of Music from the Irish Rambling House musicians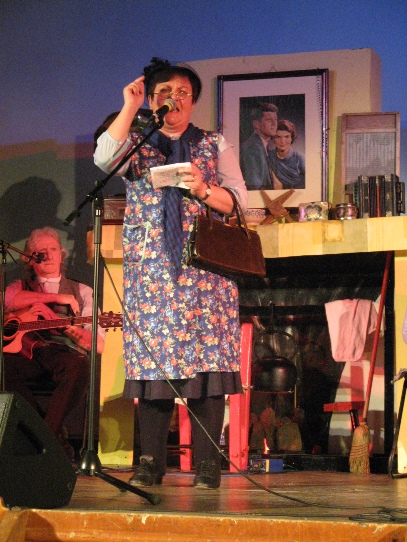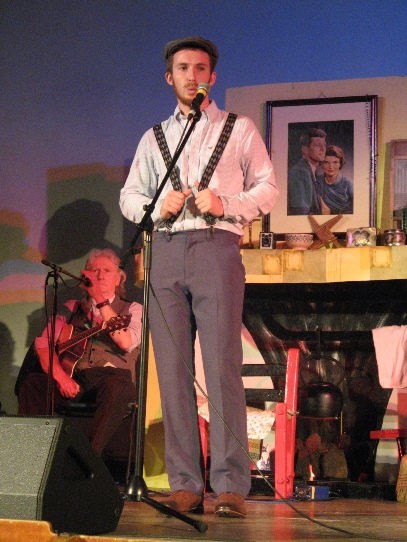 Angeline O'Donnell giving out and Seamus Harnett whistling his tune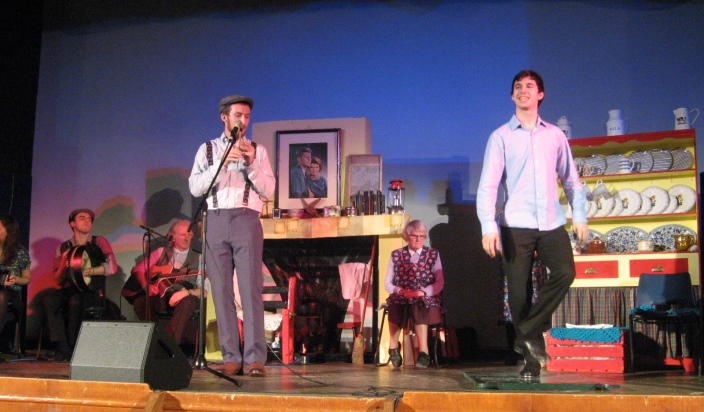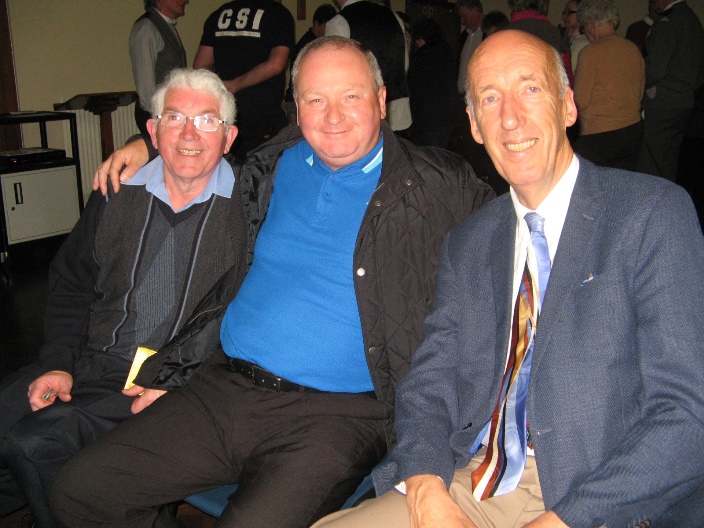 Joe met up with Willie and Patrick from Harrow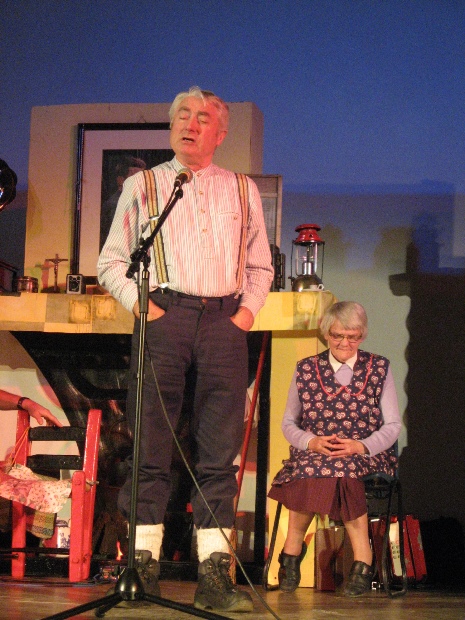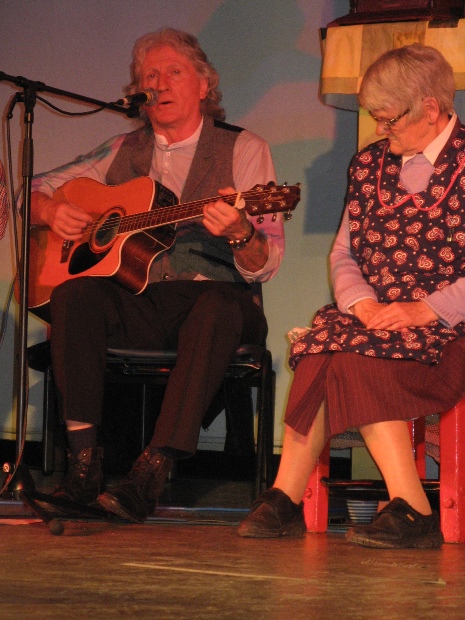 Paddy Commane and Pat McCarthy on stage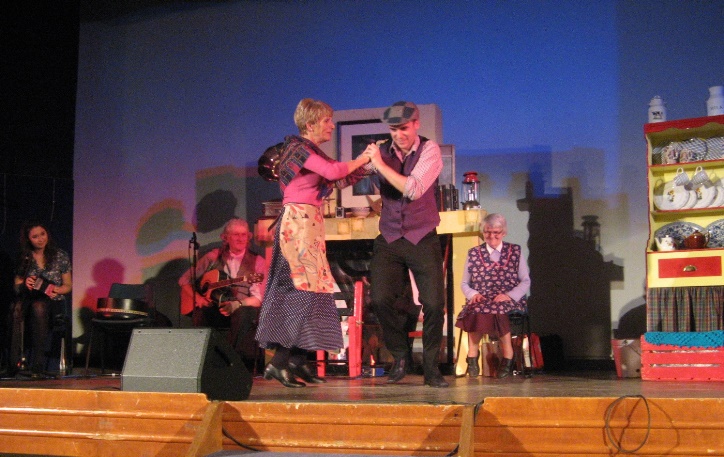 Margaret Madigan and Darragh O'Donnell step it out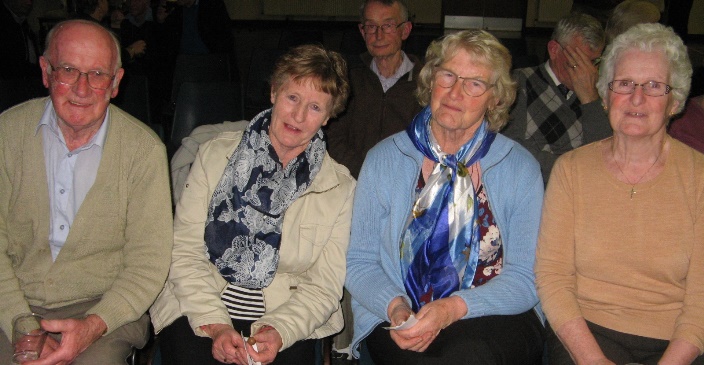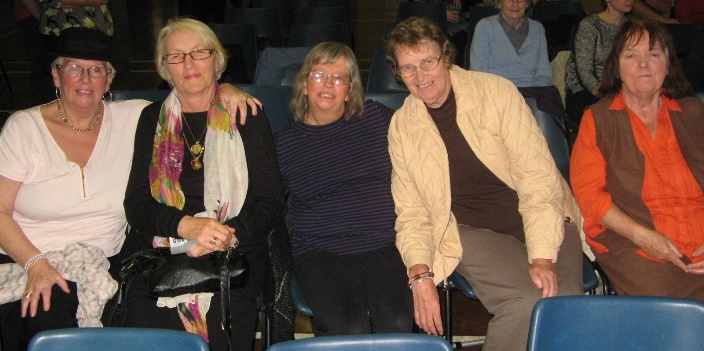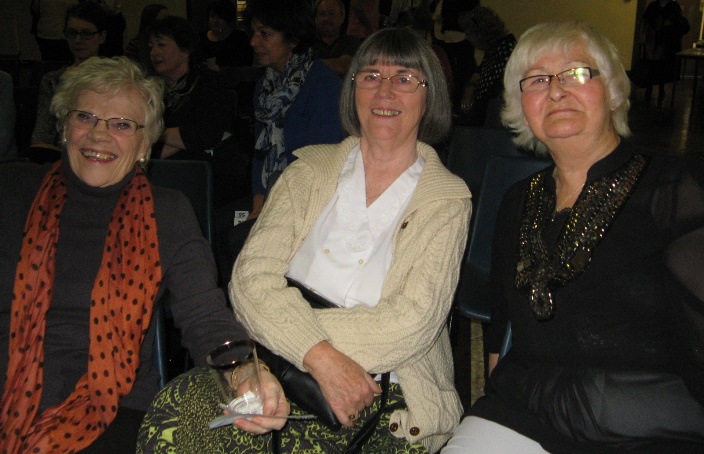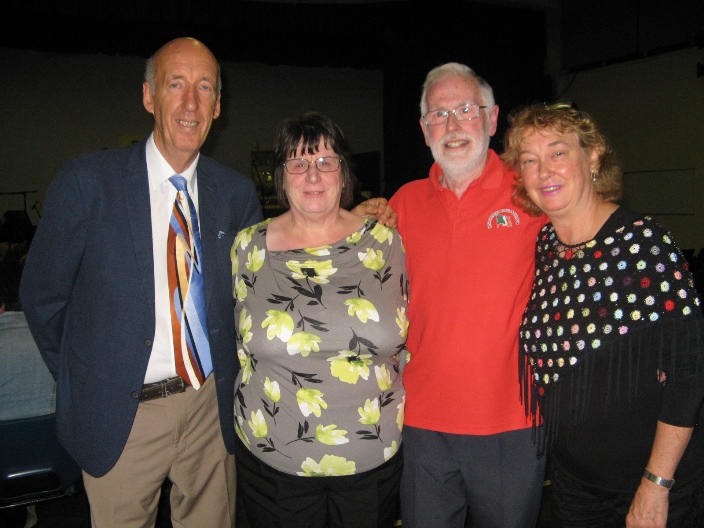 Irish Country Music Radio presenters Joe and Helen meet up with
listeners to the station, Robin and Rosemary from Stevenage.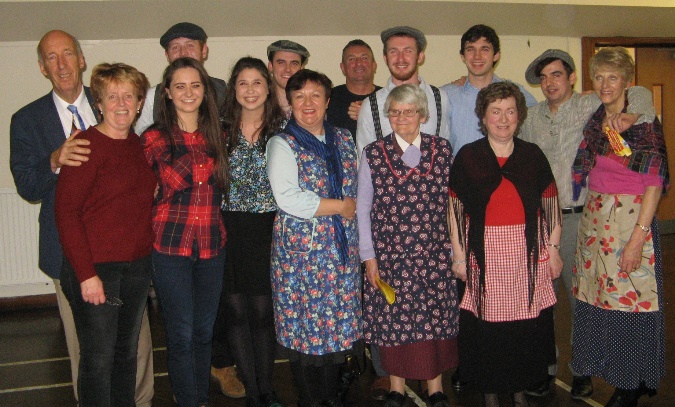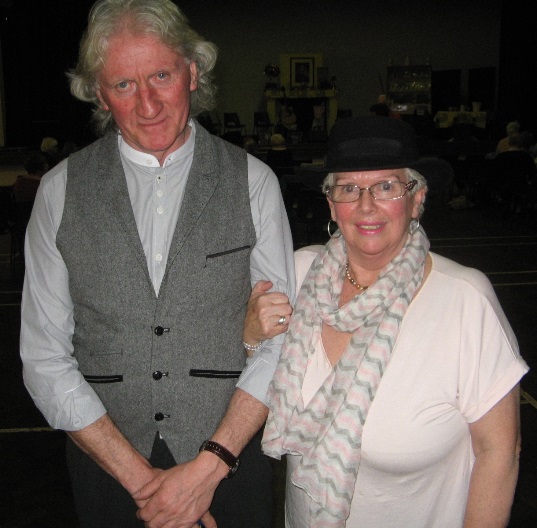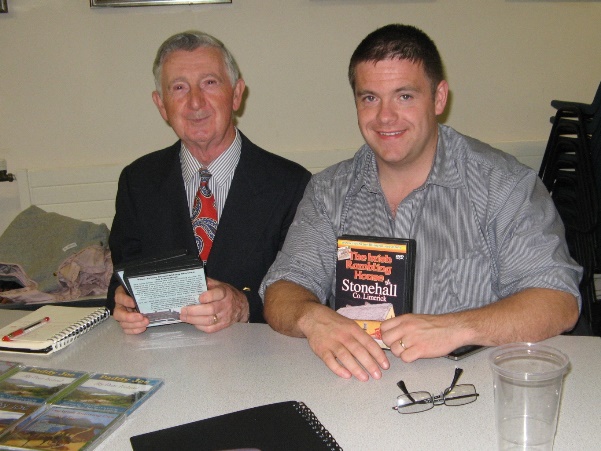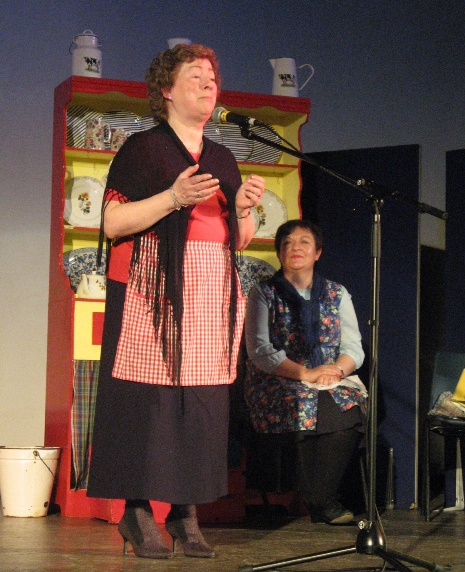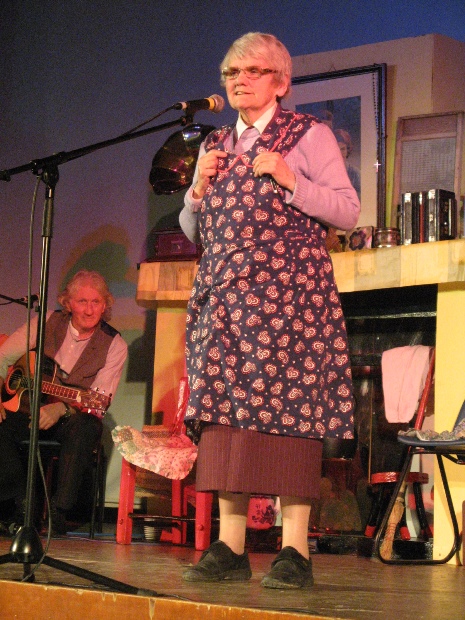 Doris Shire and Chrissie Roche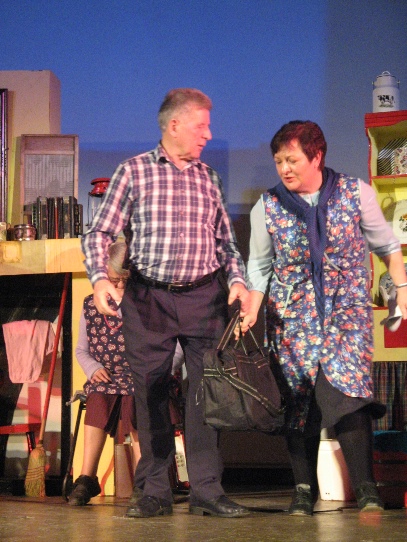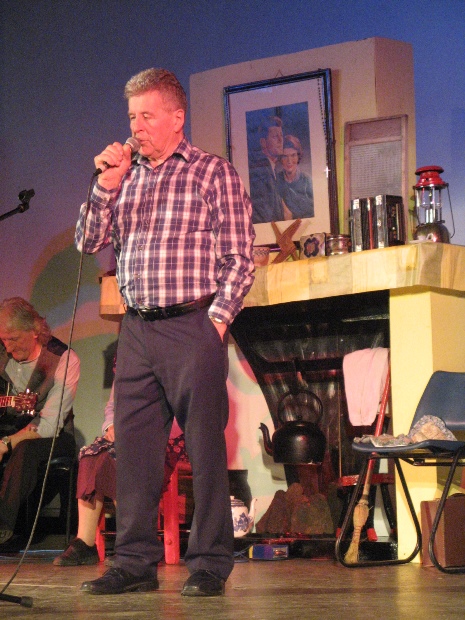 Paddy Joe from Mayo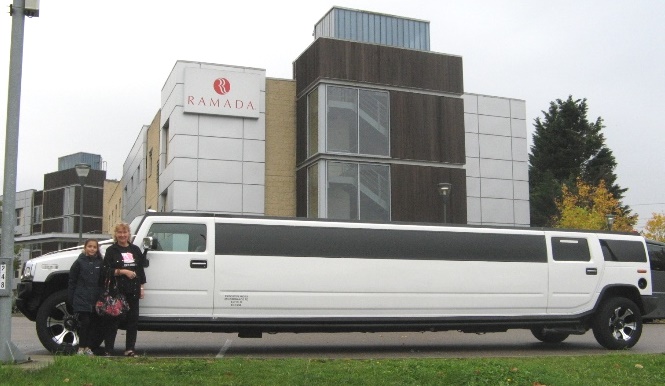 Aleena from London meets her grandaunt Helen.
Don't know who owns the Hummer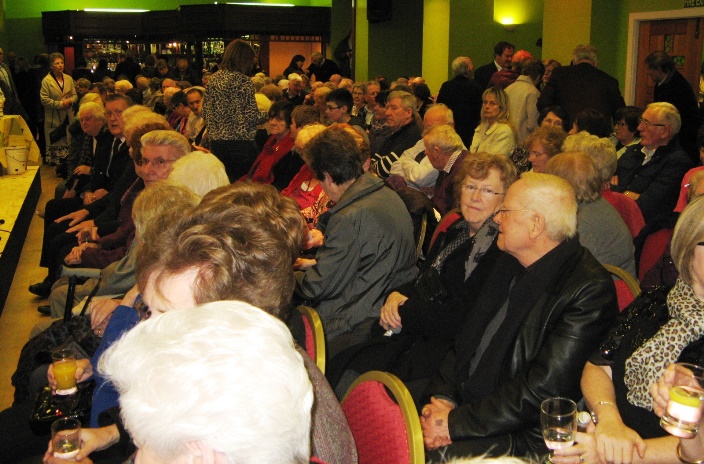 Part of the full house at Dollis Hill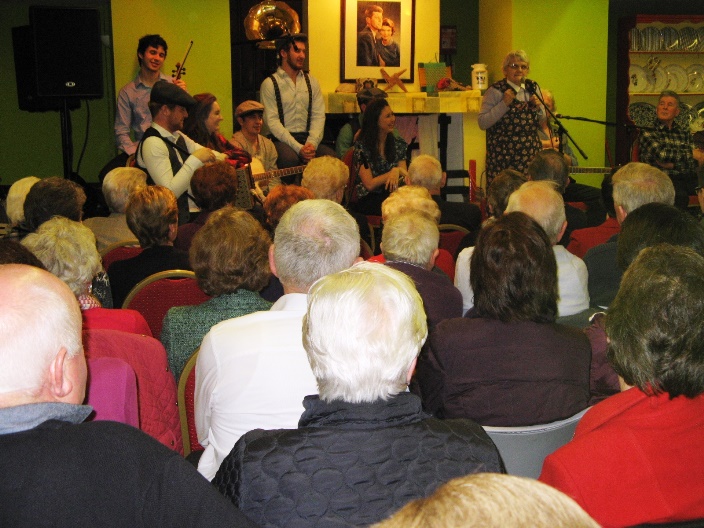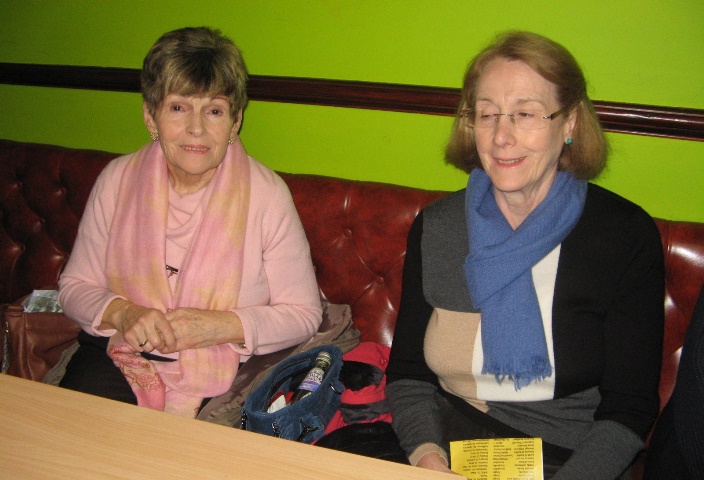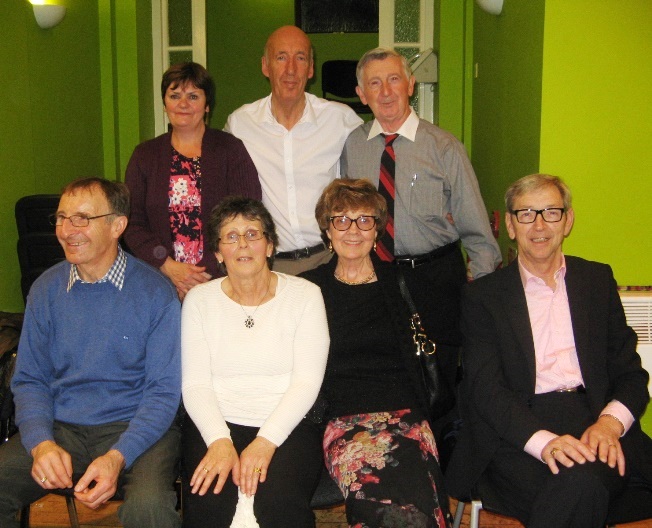 Connecting up with Lyreacrompane exiles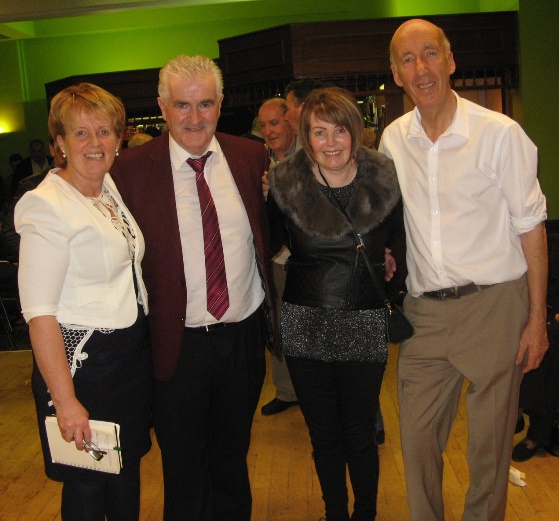 Kay O'Leary, Danny and Sheila O'Sullivan and Joe Harrington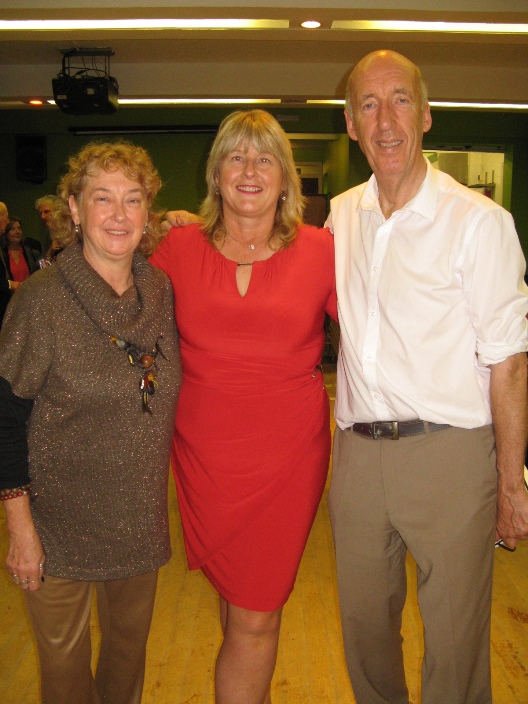 Met up with Lucia Butler from the Irish World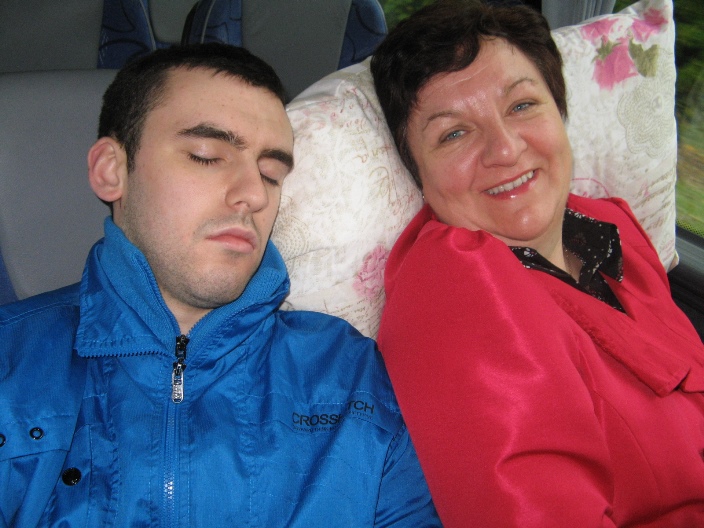 Mother and son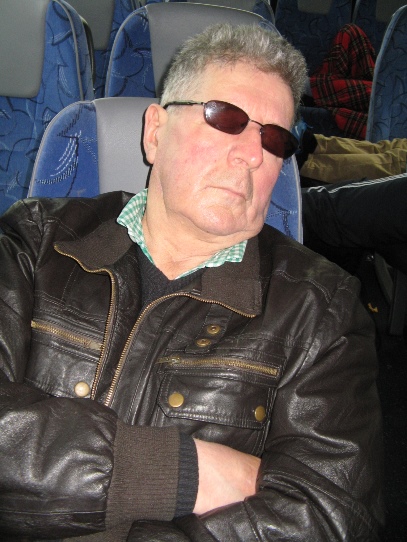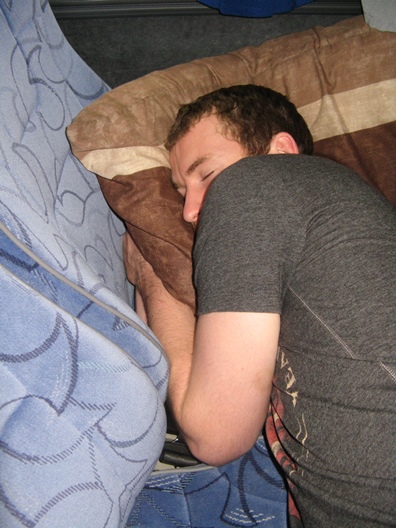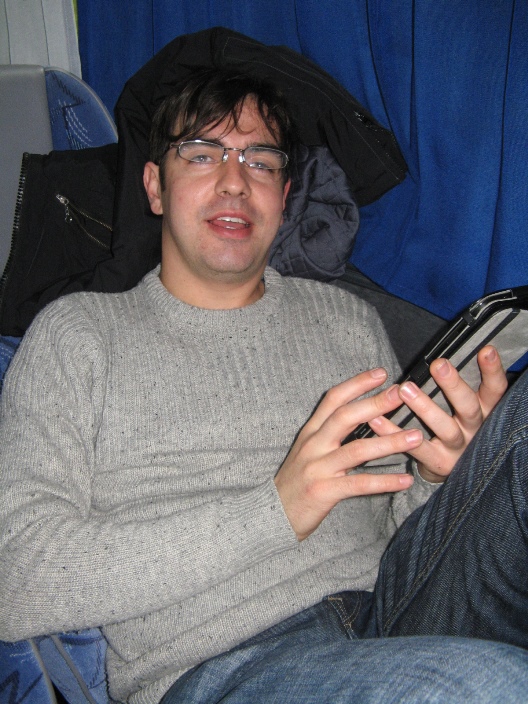 Paddy Joe Seamus Tom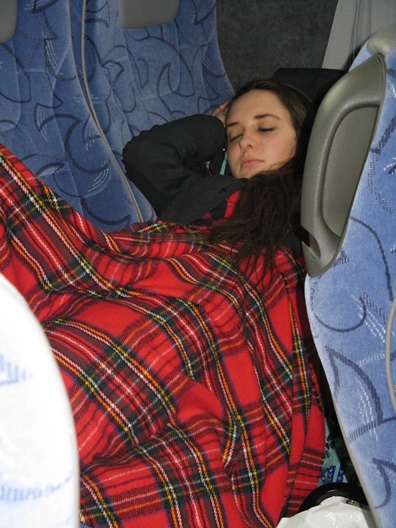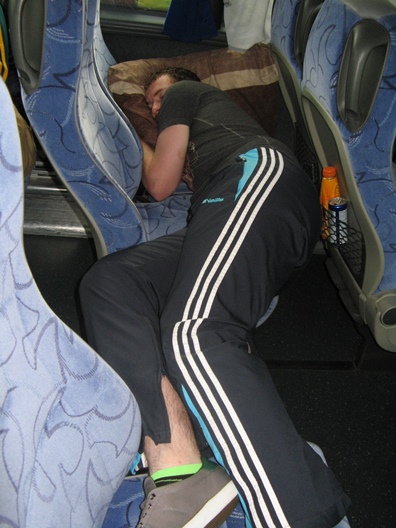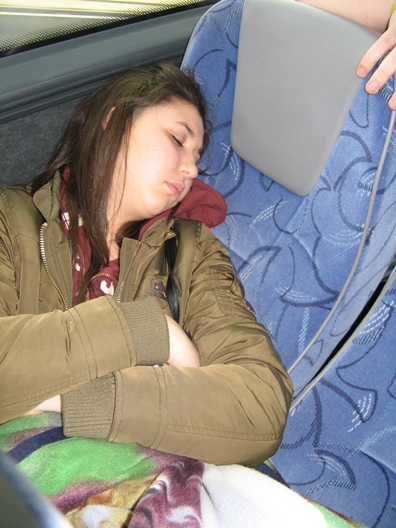 Jenny Seamus Sarah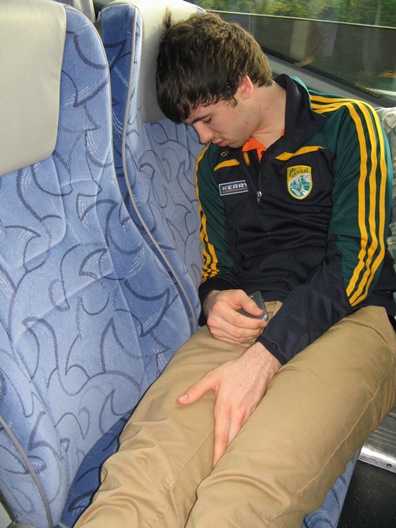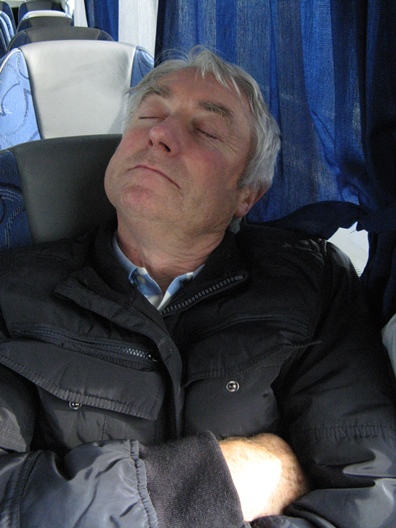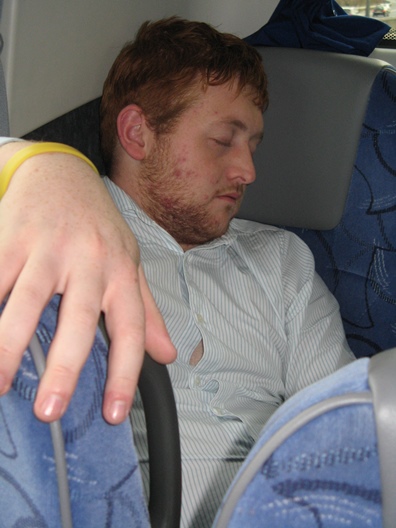 Maurice Paddy Kevin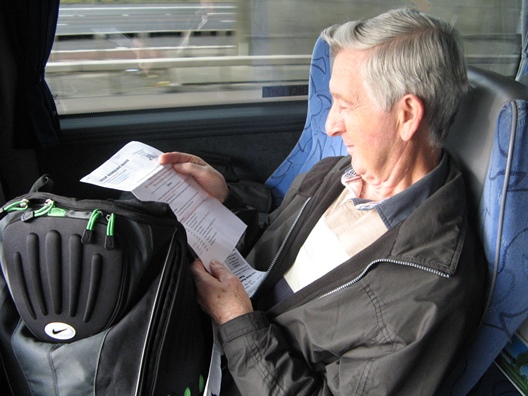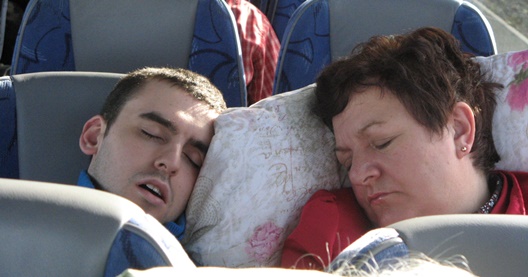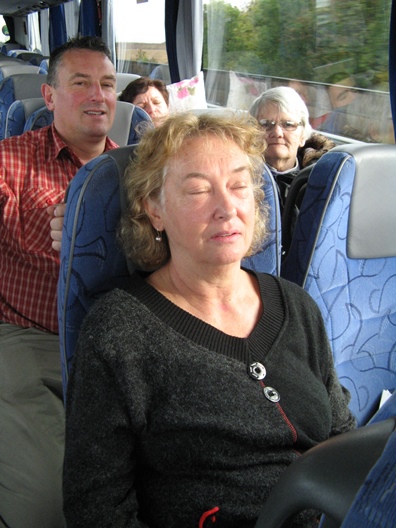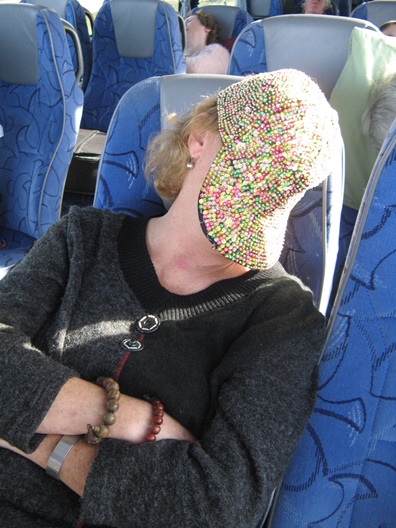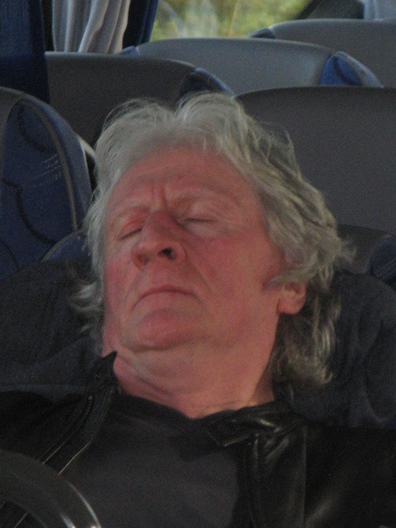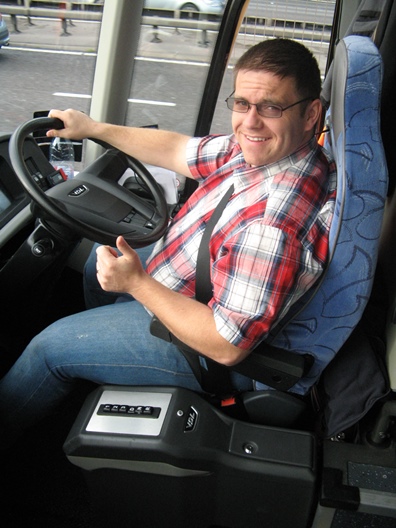 Happily our driver Tom stayed awake!
---
Foilmore Sat 17 October 2015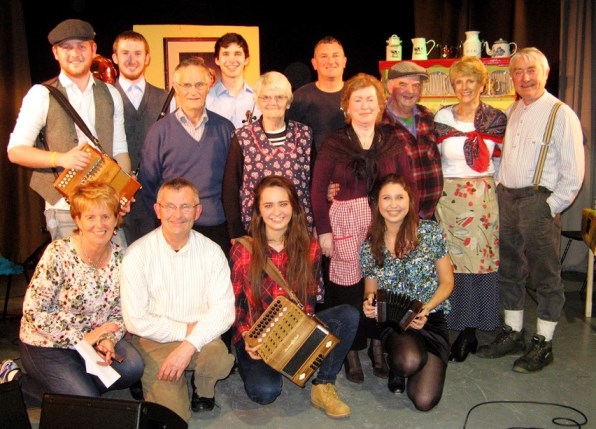 Some members of the 2015 crew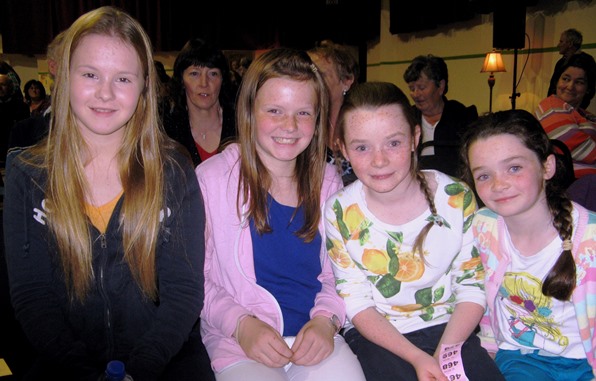 Eileen and Caití O'Sullivan with Áine and Niamh O'Connor




Joe Harrington and Billy Donegan with from left Mary O'Neill McDonell,
John O'Shea, Arena O'Sullivan, Eugene O'Sullivan, Catherine Clifford,
Christy McDonnell, Eileen O'Shea, Mary O'Shea and Ger O'Shea.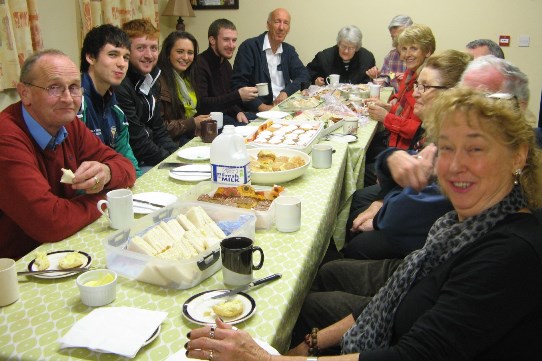 Being Fed and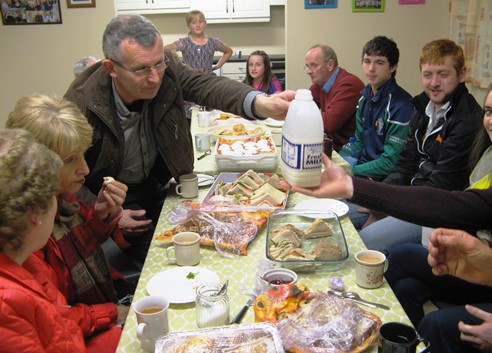 watered!!!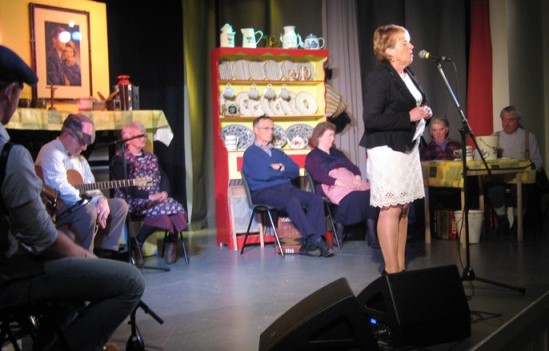 Kay getting the show underway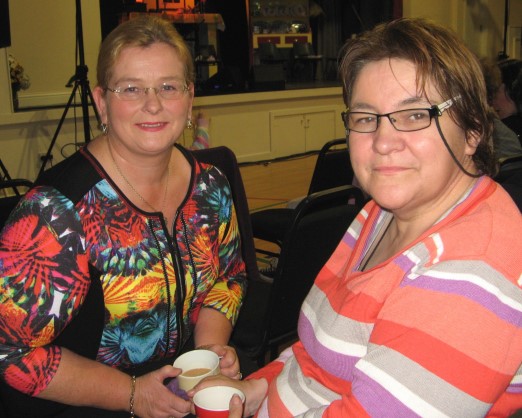 Marie Clifford Foilmore and Kathleen O'Connell Ballinskelligs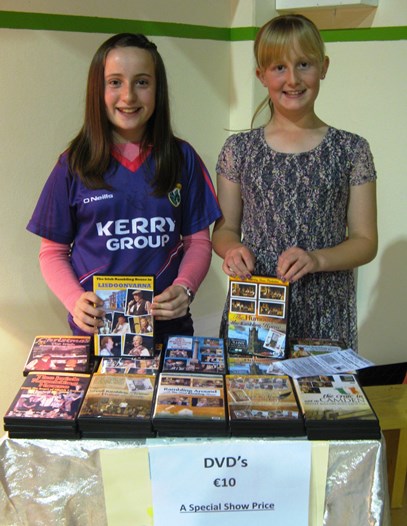 On DVD sales duty
Sinéad Behan and Caoimhe Lyons from Lyreacrompane
---
Irish Rambling House Supporter
gets well deserved award